By Wor. Nikola N. Nikolov, PM, Foundation Board Chairman
In this blog, our Senior Warden Bro. David Bella, has presented a strong argument for your participation in Lodge and supporting our efforts for 2023. I echo his sentiment. Alexandria – Washington Lodge has a storied past, which presents us with a unique platform to represent Craft Freemasonry to the world. To adequately execute the plans laid forth for the Memorial's Cornerstone Centennial Celebration and update our educational/museum exhibits in the Lodge Room and Replica Lodge Room, funds are required. The Foundation was established specifically to support the Lodge in telling the story of Freemasonry and the story of Washington as a Freemason. We are in the process of working with the Archives Committee and Officers to determine how much updates to the Lodge and Replica Lodge will cost. Initial estimates are about $60,000. This is a great deal of money, but it is not insurmountable. You can assist in raising these funds through the support of the Foundation.
Since launching the Foundation, nearly $50,000 have been raised. Thank you to everyone who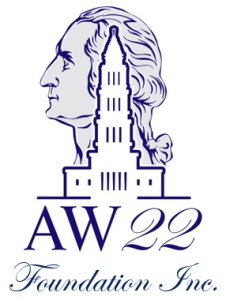 has already demonstrated their support for the Lodge and Foundation thus far. To ensure the financial health of the Foundation, and to support 2023 activities and beyond, we need to double this amount through our Cornerstone Campaign. I challenge each of you to consider how much you might be able to invest in the Lodge's future. Consider becoming a Charter Member of the Foundation with a $1,000 contribution. Some brothers question why we need to raise this money, especially when the Lodge accounts are not insignificant. The answer is twofold. First, to continue to offer strong programming and high-quality meals at each of our Stated Communications, support Lodge participation in the District Masters and Wardens Association, attendance at Grand Lodge, and participation in the Committee on Work's Reid J. Simmons Masonic Ritual Academy – among other activities – we need to leave the Lodge accounts as intact as possible. Annually, the Lodge withdraws about three percent of its invested funds to support these activities. Taking a significant chunk from those funds will reduce our annual draw and diminish our capacity for regular activities.
Second, the investments that we make in the Lodge now, through the Foundation, will remain with us through a significant historical period. The next decade is full of important events:
We celebrate both the Memorial's Cornerstone Centennial and the Lodge's 240th birthday in 2023.
In 2026, the United States will celebrate its own 250th birthday with sestercentennial activities that must include Freemasonry.
Washington's 300th birthday will be celebrated in 2032.
We will round out the decade with the Lodge's 250th birthday in 2033.
To ensure that our museum collection is properly presented to educate and inspire, we need to create new exhibitions, lecture series, and possibly publications. Your tax-deductible contributions to the Foundation will ensure we can fund these important efforts.
I urge you to become a Charter Member and support the Foundation as liberally as you can. The Foundation is working on grants and other funding streams, like our Amazon Smile Account. BUT, we can do more with your support. Please reach out to me or any member of the board to better understand your role in the Lodge's and Foundation's future.
Visit the AW22 Foundation Page to lean more.