Alexandria Lodge No. 39 at Alexandria, Virginia, was warranted by the Provincial Grand Lodge of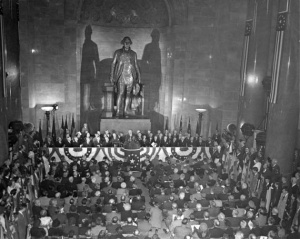 Pennsylvania (Ancient) on February 3, 1783. It was constituted on the 25th of that month and has been in continuous existence ever since that date. The Grand Lodge of Virginia having been formed, October 13, 1778, the Lodge withdrew from Pennsylvania obedience and received a Virginia charter dated April 28, 1788 as Alexandria Lodge No. 22. George Washington (later inaugurated as President of the United States on April 4, 1789) with his personal consent, was
named Worshipful Master in the Virginia charter. Following George Washington's death on December 14, 1799, in 1804, the Grand Lodge approved the change of name to the Alexandria-Washington Lodge No. 22, conditioned upon the surrender of the 1788 charter. To this condition, the Lodge objected, not desiring to lose its original Virginia charter in which
Washington was named Master. Accordingly, the Grand Lodge of Virginia adopted a resolution in 1805, permitting the change of name with retention of the old charter.
From early in the 1800's the Alexandria-Washington Lodge met in its own quarters constructed with the consent of the Common Hall (Board of Alderman and Common Council) as an addition to the Alexandria Market House. This was destroyed by fire in 1871 with the loss of many valuable relics, though a large number of mementos were saved. The hall was immediately rebuilt together with City Hall and served as its home until the Lodge moved to its present quarters in the George Washington Masonic Memorial in 1945.