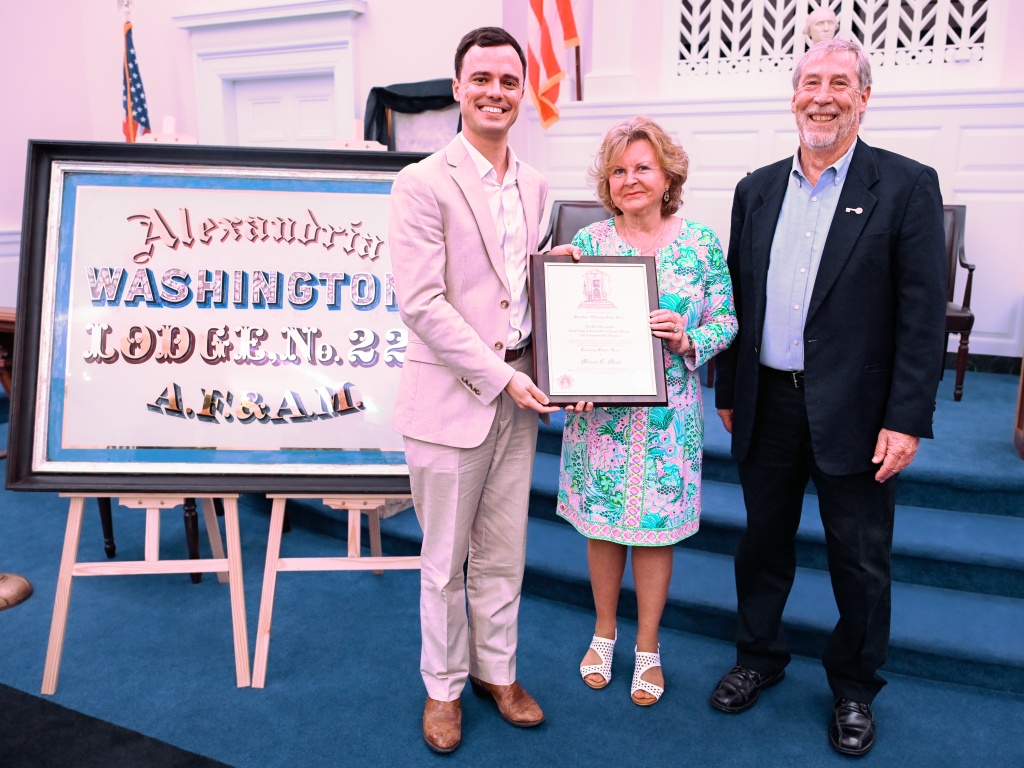 [ALEXANDRIA, VA] — September 8, 2023 — Alexandria-Washington Lodge No. 22 is proud to announce the recipient of this year's prestigious Community Builders Award. This distinguished honor is bestowed upon individuals or organizations that have made exceptional contributions to our community, embodying the Masonic principles of fellowship, charity, and community service.
The Lodge is pleased to recognize Marion Moon, a dedicated member of our community who has consistently demonstrated a remarkable commitment to serving others. Ms. Moon has tirelessly worked to improve the lives of countless individuals in our city through her selfless actions.
The Community Builders Award, a symbol of excellence and altruism, was presented to Ms. Moon during a special ceremony held on August 4th, 2023 in Alexandria-Washington's Lodge Room at the George Washington Masonic National Memorial. The event was well attended by community leaders, Masonic Lodge members, and esteemed guests to celebrate a lifetime of service to our community. Right Worshipful Jeffrey Mark Hayes, District Deputy Grand Master for Masonic District 1A (Northern Virginia) and Worshipful David Bella, Worshipful Master of Alexandria-Washington Lodge No. 22 presented Ms. Moon the award.
"Inspired by the example of our first Worshipful Master, George Washington, Alexandria-Washington Lodge No. 22 continues to place a special emphasis on providing for our local community," said David Bella. "We wanted to take an opportunity to recognize a non-Mason who demonstrates the Masonic virtue of charity, and Ms. Moon definitely fits the bill."
For more than two centuries, Alexandria-Washington Lodge No. 22 has a proud history of supporting historic community institutions, including the Alexandria Academy, the Alexandria History Museum, and of course helping to found the George Washington Masonic National Memorial. Today, the Lodge supports local organizations like ALIVE!, the Francis Hammond Higher Achievement Center, and the George Washington Birthday Celebration. Through philanthropic endeavors, community service, and a commitment to personal growth, the Lodge aims to make a positive difference in the lives of its members and the community it serves. For more information about the Community Builders Award or about the Lodge, please visit AW22.org.
###
About Alexandria-Washington Lodge No. 22:
Alexandria-Washington Lodge No. 22 was founded on February 25, 1783 as Alexandria Lodge No. 39 by the Grand Lodge of Pennsylvania and was the first Masonic Lodge in Alexandria, Virginia. In 1788, the Lodge joined the Grand Lodge of Virginia and was given the name Alexandria Lodge No. 22. Upon the new charter, the Brethren asked Illustrious Brother George Washington to be the Worshipful Master because of his close ties to the Lodge, a position he accepted and held during his inaugural years as President of the United States. Remaining in close fraternal ties to his Alexandria brethren for the remainder of his life, two of the three doctors at his deathbed were members of the Lodge, which conducted his Masonic funeral on December 18, 1799.
To honor their most famous member, the Lodge changed its name to Alexandria-Washington No. 22 in 1805. The Lodge maintained a museum and Lodge room at Alexandria's City Hall for over one hundred years before building their current home, the George Washington Masonic National Memorial. 240 years after its founding, the Lodge continues to be a pillar of the Alexandria community by participating in charitable events, hosting educational programs, preserving artifacts related to George Washington and early American history, and most importantly, inducting men of high character into our Masonic Craft.
Media Contact:
David Bella
Master@AW22.org
228-282-0906